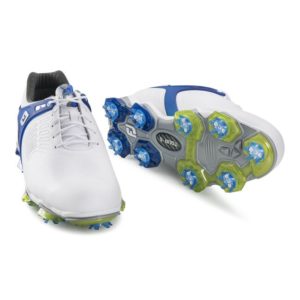 THE NUMBER 1 shoe on the tour..
FEATURES & BENEFITS
POWER
The Tour-S PowerPlate® outsole provides an incredibly lightweight yet stable platform from which players efficiently transfer power throughout the golf swing. Built upon a foundation of a proprietary Pebax® polymer, that is typically 20% lighter than other polymers, the PowerPlate features an integrated carbon weave fiberglass mid-foot plate and nine LaunchPods™ to create additional structure, surface area, and ground coverage for maximum stability.
PRECISION
The Tour-S features FJ's proprietary PowerStrap™, a molded component integrated into the shoe's upper to provide lock-down medial and lateral support. SecureCollar™ and ComforTongue™ technologies deliver a secure, precise fit round after round.
COMFORT
The Tour-S utilizes a dual-density PU Fit-Bed® to ensure all-day underfoot comfort and FJ's exclusive Premium Performance Leather (PPL) to achieve top grade feel, finish, and waterproof protection.
WATERPROOF
Pure Performance Leather PPL, offers outstanding waterproof comfort, breathability, and durability. FJ warrants that this golf shoe will be 100% waterproof
LASER PLUS FIT
The Laser Plus Last offers a full rounded toe character, standard fit across forefoot and instep, with a slightly narrow heel. Thicker insole provides increased underfoot cushioning for enhanced comfort.
Openingstijden
MA: 13.00 - 18.00 uur | DI - WO: 10.00 - 18.00 uur | DO: 10.00 - 19.00 uur | VR: 10.00 - 18.00 uur | ZA: 9.30 - 17.00 uur | ZO: gesloten
Openingstijden
MA: gesloten | DI - ZO: 10.00 - 17.00 uur